Today's the first day of Superstars Writing Seminar, the only writing seminar that teaches you the business of being a writer. So, today's post addresses a commonly misunderstood copyright issue. What is "work for hire" and what does that really mean?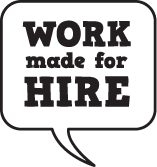 There's a legal landmine hidden in working with contractors instead of employees.  Your contractor owns what she creates for your business unless you have a written agreement conveying ownership to your company. A friend. Padma, hired a graphic artist, Aina, to create an avatar/logo for Padma's new podcast. No written agreement existed. The logo was a caricature of Padma. A problem arose shortly after the logo was created because Aina claimed she owned the avatar. Worse, as an independent contractor, Aina actually did own the work.
Generally, the person who creates a "work"—a print or electronic manuscript, a sound recording, a computer software program, or other similar concrete medium—owns it and the copyright. Only the author and people claiming through the author can claim a copyright. This post was copyrighted the moment I typed the first word, without my having to register it or take any other action.
Copyright and ownership laws can be problematic if you're hiring someone other than an employee to create a product for your business. However, the law recognizes an exception in "works for hire." Let's take the easy one first. If an employee creates the work within his period and scope of employment, the work is considered "work for hire." The company owns the work product.
The issue gets murky when the person creating the work is an independent contractor. Work "specially ordered or commissioned for use" by an independent contractor is only deemed to be "work for hire" if the parties expressly agree it is "work for hire" in writing, in advance, and if it can be considered at least one of these:
a contribution to a collective work,
a part of a motion picture or other audiovisual work,
a translation,
a supplementary work,
a compilation,
an instructional text,
a test,
answer material for a test, or
an atlas.
If the factors of this doctrine are met, the employer and not the creator is the owner of the work. Without a work for hire agreement, you may have to pay for the right to use the product created by your independent contractor, who can sell that product to other parties.
If your independent contractor isn't working on a project that falls into one of the nine categories for "work for hire" protections, then you absolutely need a contract provision that assigns the ownership and copyright for the project to your company.
Let's go back to Padma's problem with Aina. The logo doesn't fall into the work for hire categories. Unless there is a written agreement conveying ownership of the logo to Padma, Aina still owns the logo, and at best, Padma had a license to use the logo for a specific purpose. There was no written agreement, so Aina kept ownership of the logo. Padma paid twice: once to create the design and a second time to obtain ownership of the logo.
Similar problems happen every time someone who is not an employee creates a product for you. This means contractors like your web designer. If your web designer obtained your company's domain name, do you own the name or does the web designer? Odds are, your web designer does. Unless you have a written agreement stating that you own the domain name, your web designer has a choke hold on your business. After all, you've created your brand around the company name and website URL. Having to pay an exorbitant amount to purchase the domain name from your former web designer or having to redirect all your business to a new website can be expensive and devastating for your business.
Don't stumble over this landmine. It's an easy one to avoid. Have a written agreement that secures ownership of any materials created by any independent contractor you hire.
Work for hire and copyright are complex and it's important to consult with an expert on these issues rather than relying on common wisdom.
If you need advice related to working with independent contractors, works for hire, copyright or would like assistance with any other business matter, please contact Nancy at Land, Carroll and Blair, PC, in Alexandria and Fairfax, VA at:
(703) 836-1000
ngreene@landcarroll.com
https://attorneynancygreene.com
Facebook:        https://www.facebook.com/landcarroll/
https://www.facebook.com/attorneynancygreene/
Twitter:           @attnyNancyGreene
LinkedIn:        https://www.linkedin.com/in/attorneynancygreene/
DISCLAIMER:
You knew one was coming, right? After all, I am an attorney. Nothing in this article is or should be considered legal advice. This article forms no lawyer-client relationship. Consult an attorney about your situation. WE SPECIFICALLY DISCLAIM ANY REPRESENTATIONS OR WARRANTIES, EXPRESS OR IMPLIED, INCLUDING, WITHOUT LIMITATION, ANY REPRESENTATIONS OR WARRANTIES OF MERCHANTABILITY OR FITNESS FOR A PARTICULAR PURPOSE. We do not give tax or investment advice or advocate the purchase or sale of any security or investment. Always seek the assistance of a professional for tax, legal and investment advic