Avoiding Legal Landmines is on Pre-Sale today!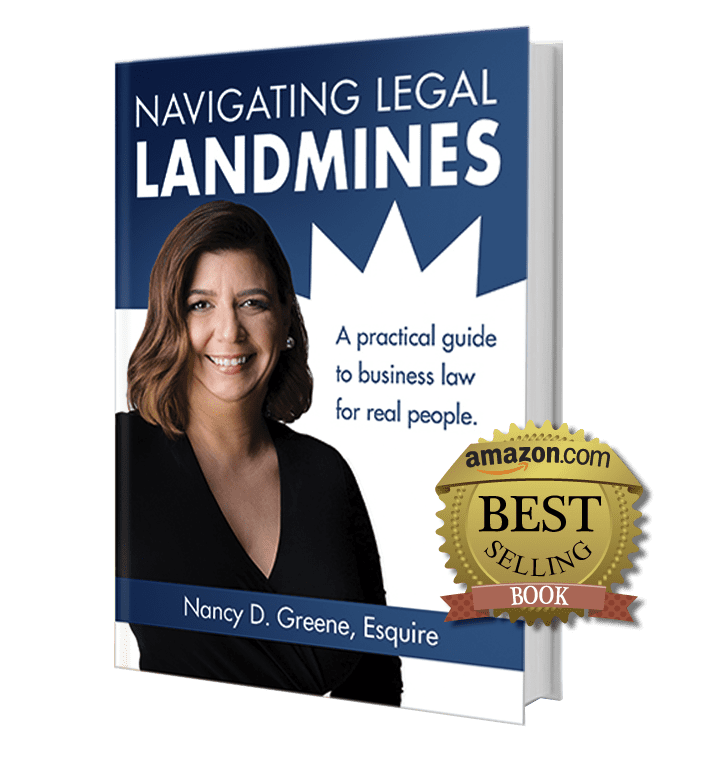 Have you heard? My new book Navigating Legal Landmines: A Practical Guide to Business Law for Real People is available for pre-order. I'm so excited about this book, because it's the first book on business law that is easy to read. Instead of boring mumbo-jumbo that makes you want to pull your hair out, my book is actually fun to read. Yes, you read that right: a business law book that is fun to read!
This book is gift for entrepreneurs. It will save you headaches, money, and may even save your business!
Ken Kragen who holds a MBA Harvard Business School, was the Recipient of the United Nation's Peace Medal and organizer of We Are The World, Hands Across America had this to say about the book:
We are all too familiar with the dangers our military face from enemy mines  and the consequences when they fail to discover them until it's too late. We can be thankful that we don't have to deal with those things in our own lives.

Yet, as Nancy Greene so clearly points out any of us running a business, large or small face a field of Legal Landmines that can disable or even kill our businesses and have serious impact on our personal lives.

In this new book Ms. Greene shows you how to anticipate, navigate or totally avoid these situations and, most importantly, have the professional help and documents ready to handle them when they inevitability arise.

This is a book of tremendous value to anyone in business whether it's a start-up or one that's been around for a while. I've had the chance to get to know Nancy Greene and even mentor her a bit and she's the real deal with the knowledge to take you through the daily business minefields. – Ken Kragen
I am humbled and honored that Ken thought so highly of the book.
Listen, here's the deal. I want to help as many entrepreneurs as possible, and so today only I'm offering the Kindle version of the book for 99 cents. See, I don't want price to be a barrier on any entrepreneurs' or business owner's journey.
Click here to learn more about the book and get your copy.
Pre-order Navigating Legal Landmines for 99 cents today, and the book will be delivered to your Kindle or your inbox on February 28.
Spread the word about this fantastic deal!